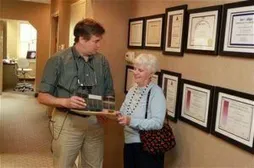 It's no coincidence that our Rocky River dental practice has been serving families in the area for nearly a century. Dr. John L. Kinsley is a 3rd generation dentist, continuing in the footsteps of his father and grandfather, delivering comfortable, trustworthy oral health services to our patients.
Depending on your needs and concerns, we provide a comprehensive menu of care options for you to choose from, including:
General and Restorative Dentistry
From minimally invasive white teeth fillings to porcelain dental crowns and dental bridges, we'll help to restore your entire smile, tooth by tooth. Or replace all of your missing teeth with customized dental bridges and dentures. Get a personalized treatment plan that fits both your budget and personal goals.
Preventive Treatments
Routine preventive dental care is the most effective step in avoiding dental diseases and tooth loss. Taking measures to prevent dental problems before they start is key to good oral health.
Gum Disease and Periodontics
Neglecting your oral health can lead to gum disease. When left untreated, gum disease is the primary cause of tooth mobility issues and tooth loss in adults. Our hygiene team will give you the tools and tips necessary to keep your smile healthy for life.
Cosmetic Dentistry and Smile Makeovers
If you've lacked the confidence necessary to smile freely among your friends and family, Dr. Kinsley can help. We have aesthetic solutions that fit every budget, whether it's brightening your smile with a teeth whitening treatment or dramatically transforming your entire appearance with custom dental veneers.
Dental Implants for Missing Teeth
Choosing dental implants to restore your missing teeth is one of the best ways to experience a smile solution that can last the rest of your life. There's no other type of tooth replacement that so closely mimics the look and feel of real teeth than dental implants. They can be used for as few as one or two teeth, or to anchor an entire full-mouth prosthesis.
Clear Invisalign Braces
Invisalign braces are made of clear materials that aren't noticeable when you're talking or smiling in front of other people. Clear orthodontics are recommended for adults and teens who want to enjoy straighter, healthier smiles and a boost in self-confidence.
Schedule a One-on-One Consultation Today
Not sure where to start? Call John L. Kinsley, DDS General & Restorative Dentistry today to schedule your next visit with us. We'll work closely with you and your insurance carrier to ensure an affordable, high-quality experience.
---
Click on the links below to learn more about the services we provide.